Ms. Sonali Gedam
Subject: Japanese Language,
Department of languages, Faculty of Arts Science Commerce and Management. (FASCM)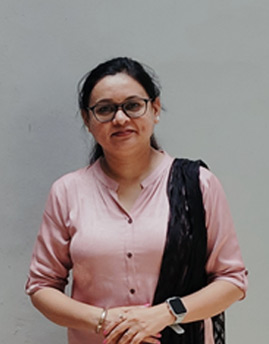 About Ms. Sonali Gedam
Ms. Sonali, with a Master's degree in Sociology from Nagpur University and a Japanese language proficiency certificate, possesses a comprehensive understanding of society and diverse cultures. This knowledge forms the foundation of her distinctive approach to teaching Japanese. For the past 4 years, she has been instrumental in guiding students from various backgrounds, including those with limited opportunities. This experience has underscored the importance of adaptable and compassionate teaching, showcasing the transformative power of language.
Ms. Sonali firmly believes that language acquisition is intertwined with cultural exploration. In her teaching, she integrates practical scenarios, traditions, and customs, enriching students' comprehension beyond language skills alone. This approach nurtures an affection for Japan's vibrant heritage alongside linguistic proficiency.
Recognizing the individuality of each student, Ms. Sonali is committed to tailoring her instruction to suit their learning preferences and aspirations. By fostering an inviting and inclusive classroom environment, she empowers students to communicate confidently, exchange ideas, and refine their language aptitude.