Chancellor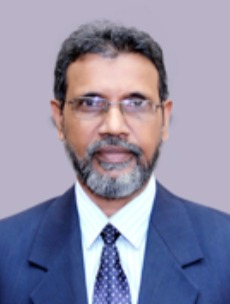 Dr. K. Ramasamy is the Chancellor of Karpagam Academy of Higher Education. He served as the Vice-Chancellor of Tamil Nadu Agricultural University (TNAU), Coimbatore for two terms 2012-2015 and 2015-2018. He also served as Vice Chancellor of Karpagam Academy of Higher Education, Coimbatore,
Dr. K. Ramasamy, a man – of – Gandhian dictum of "You must be the change you wish to see in the world" was born on May 1, 1948. He hails from a farming community of Nilaiyoor, Aranthangi Taluk, Pudukottai district in Tamil Nadu. He completed his schooling at Veludaiyar High School, Tiruvarur and Board High School, Aranthangi. He graduated from Annamalai University in M.Sc. (Agricultural Microbiology) and pursued M.S. in Fermentation Technology at Catholic University of Leuven, Belgium. He continued in the same University to specialize in Industrial Microbiology for Ph.D. programme and honed his experience in Electron Microscopy as a post doctoral fellow. He was a post doctoral fellow at the Michigan State University, USA on Gene Cloning later.
He joined TNAU in 1970 and served in various capacities in the Department of Soil Science, Plant Pathology, Agricultural Microbiology, Bioenergy, Environmental Science and Biotechnology. During his tenure of over 36 years at the University he combined a wide-range of administrative duties with teaching and research. As an administrator, he served as Head of Environmental Sciences in TNAU and rose to the rank of Dean, Adiparasakthi Agricultural College, Kalavai and Director, Centre for Plant Molecular Biology and Biotechnology in TNAU. His passion, flair and  accomplishments in research  on aerobic  / anaerobic microbiology fetched him financial assistance from 1982 onwards in more than 30 externally funded projects from different national funding agencies like Indian Council of Agricultural Research (ICAR), Department of Science and Technology (DST), Department of  Biotechnology (DBT), Council of Scientific and Industrial Research (CSIR), Board of Research in Nuclear Sciences (BRNS), Ministry of Non-Conventional Energy Sources (MNES) and international agencies like Australian Centre for International Agricultural Research (ACIAR), Food and Agriculture Organization (FAO), Rome, United States Department of Agriculture (USDA) and European Union (EU). Under his eminent guidance – post graduate and Ph.D, students completed their graduation and doctoral programmes. He has also organized 18 trainings and international workshops related to his field of research. He has published more than 152 research publications, including 8 books and 23 bulletins. His excellence in academic and research achievements has been widely recognized nationally and internationally. He has been honoured with 21 awards, 2 medals and 6 fellowships.
His service in the field of agricultural education and research was further extended to other scientific and industrial establishments. He has visited countries like Belgium, England, Germany, Sweden, France, Netherlands, United States of America, Japan, New Zealand, Australia, Brazil, etc. on various academic assignments. He has acted as Visiting Professor for many leading Universities in USA, Australia, New Zealand and Japan. He served as National Syllabus Setter and Examiner for University Grants Commission (UGC), Indian Council of Agricultural Research (ICAR) and Council of Scientific and Industrial Research (CSIR). He was responsible for establishing several new academic programmes viz., Bioenergy, Environmental Science, Environmental Biotechnology, Microbial Technology, Biochemical Technology, etc. in Universities of Tamil Nadu, Kerala, Goa and Maharashtra. He also worked as Dean, School of Biosciences and Bioengineering at SRM University, Chennai and as Vice-Chancellor, Karpagam University, Coimbatore. Being a team person, a solution seeker and a man-of-action, he developed need-based solutions for waste recycling and disposal. He worked with industries like M/s Southern Petrochemical Industries Corporation (SPIC),  M/s Tamil Nadu Newsprint and Papers Limited (TNPL), M/s Seshasayee Paper and Boards Limited, M/s South India Viscose (SIV), M/s Sakthi Sugars Limited  and M/s Bannari Amman Sugars Limited  to solve problems related to the environment. Besides, he served as a Member in National Policy Planning of Agricultural Biotechnology, Ferti- irrigation and Biogas Development, serving as a Member of Backward Classes Commission, Member of  Tamil Nadu State Planning Commission (Agriculture and Irrigation) from 02.07.2011 onwards. He has been instrumental as an advisor in various development and welfare schemes of the state. Capacity building in an organization like TNAU needs forethought and leadership to implement the desired action plan. Dr. K. Ramasamy is a stern advocate of optimism and action and always posed the question "why not?". He values the role of youth in agricultural education and research to be the future of agriculture. Rightly so, under the proficient guidance and support from him, three more government agricultural colleges at Vazhavachanur (Thiruvannamalai District), Eachankottai (Thanjavur District) and Kudumiyanmalai (Pudukottai District) were established at the cost of Rs.50 crores each to cater the needs of rural youth entering the field of agricultural education in the state. Further, to groom young scientists for doing cutting edge research, six Centres of Excellence, viz., Centre of Excellence for Molecular Breeding, Coimbatore, Centre of Excellence for Dry Farming, Chettinadu, Centre of Excellence for Soil Health, Trichy, Centre of Excellence for Innovation, Madurai, Centre of Excellence for Farm Women Knowledge, Trichy, and Centre of Excellence for Oil palm Research, Pattukottai were created across TNAU with the financial support from the Government of Tamil Nadu. He played an active role in getting funds from the State Planning Commission for the establishment of an Insect Museum, a first of its kind in the country, at the Department of Agricultural Entomology, TNAU, Coimbatore. This museum will serve as a nodal point to know all about the wonders of Indian insect diversity by common people, children, researchers and students. His vibrant initiative for establishing research leadership in specific areas resulted in the creation of research stations for Grapevine at Mallingapuram (Theni District), Small Millets at Athiyendal (Thiruvannamali District) and Citrus at Sankarankovil (Tirunelveli District) with the financial support from the Government of Tamil Nadu.
In recognition of his services as Vice-Chancellor, Dr. K. Ramasamy was honoured with the Best Vice-Chancellor of State Agricultural Universities (SAU) Award for the year 2014 by All India Agricultural Students Association (AIASA) and for his outstanding contribution in Anaerobic Microbiology, he was recognized as the Fellow of Indian Academy of Microbiological Sciences by the Indian Academy of Microbiological Sciences (Association of Microbiologists of India) during 2014.
Under his leadership, TNAU stamped its supremacy in Agricultural Education and Research by winning
Overall Excellence Award 2014 from Federation of Indian Chamber of Commerce and Industry (FICCI)
Global Quality Award 2014 and Education Excellence Award 2014 from Brands Academy, New Delhi
National Intellectual Property Award, 2013 from the Department of Industrial Policy and Promotion (DIPP) and Intellectual Property Office, Government of India
Golden Jubilee of Green Revolution Award, 2015 from National Academy of Agricultural Sciences (NAAS), Indian Council of Agricultural Research (ICAR), Government of India.
Presently, Dr. K. Ramasamy is the member of
Board of Indian Council of Agricultural Research (ICAR)
NAAS University Ranking Committee
ICAR Accreditation Committee
ICAR Academic Infrastructure Committee
Virtual Class Rooms (VCR) for Higher Agricultural Education across NARES committee
Online Learning System (including MOOC) committee at the National level.
With his broad vision and mission of achieving targeted agricultural growth in Tamil Nadu, the ever optimistic Vice-Chancellor firmly believes in introducing changes in agricultural education and in reorienting research to satisfy the needs of student and farming community. His overall aim of achieving 4 per cent growth rate in agriculture in the state through "Improved Education-Inclusive Research-Informed Clienteles" in the domain of agriculture is expected sooner than later.
He served in SRMIST Kattankulathur as Director, Faculty, Academics and Research.2018-2022
He is an Advisor to VIT-VAIAL