Chancellor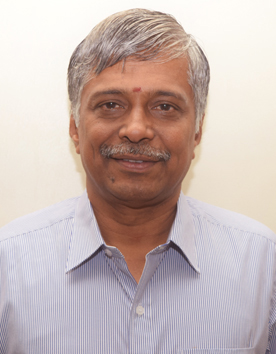 Shri. V. Krishnakumar is the Chancellor of Karpagam Academy of Higher Education. He is the  Vice President (Sales and Marketing) in Aquasub Engineering, Coimbatore, Manufacturers of TEXMO brand submersible, domestic mono blocks and jet pumps and AQUATEX brand agricultural monoblocs. Aquasub Engineering is a Rs. 1000 crores company and it also has 7 manufacturing facilities in Coimbatore and 21 sales branches throughout India. He is also Vice President of Southern India Engineering Manufacturers Association- SIEMA, Coimbatore, representing thousands of companies.
He served as a committee member of Coimbatore Industrial Infrastructure Association for 6 years – COINDIA. He has also possessed various prestigious positions like Governing Council Member of Indian Chamber of Commerce and Industry, Coimbatore ICCIC, Member, Academic Council of Karpagam College of Engineering and Member, Board of Management & Academic Council of Karpagam Academy of Higher Education, Coimbatore.
He was also a member of Institutional Quality Assurance Cell (IQAC) PSG College of Technology, Coimbatore. He has served as a Former President of IPMA – India Pump Manufacturers Association, Mumbai, Former Vice President, SITRA – Scientific and Industrial Testing and Research Centre, Coimbatore, and Former Southern Regional Council Chairman, All India Electric Motor Manufacturers Association, Mumbai – AIEMMA.
He has delivered a Speech in European Pump Association (EUROPUMP) at Zurich in Switzerland as President of IPMA. To broaden and acquire knowledge he has travelled to various places like UAE, Oman, Saudi Arabia, Indonesia, Malaysia, Vietnam, Thailand, China, Hongkong, Kenya, Tanzania, South Africa, Mauritius, Italy, The Netherland, and Switzerland.